Categories:
Designer Shoes

YSL is on a roll these days, and we mean that quite literally. After stunning half of the world with uber-chic "YSL" heels and the glittering shrug boots, Anthony Vaccarello is back again to stump the other half with an ingenious pair of Roller heels! If walking around in the pointy 5 inches wasn't complicated enough, Saint Laurent's new 'heels with wheels' promise to swoop you right to the ground unless you are a sound skater!



As evident from the pictures, the stunning stilettoes combine shiny streaks of pink, golden and blue against a jet-black canvas, with few other sultry design elements on display. The clever (and dangerous) part of the deal though is the wheels that come attached right below the heel length and soles in white. While strutting around these in a party is equivalent to inviting a hip break, no one can take away from their brainy design! The impractical wonders certainly do not fail to impress us with their aesthetics and are evident of the talent that Saint Laurent truly holds!


Anthony Vaccarello, the brand's new creative director too, has added a long feather in his cap for these exclusive heels and is already getting the fashion world in awe of him. The gorgeous Stiletto Rollers are part of the YSL's 2017 fall collection and can be purchased for $2600. For the not-so-daring souls, another version in the form of sneakers can be purchased for $1195.
comnum(0) tbcount(0) tbcount(317)
Categories:
Other Brands
I've seen this in stores, I've seen it online, but why I never featured this earlier still escapes me since it is a pretty functional piece that's built to last a lifetime.
Simply known as the Saint Laurent Beach Shopping Tote, though I think the name should actually be beach AND/OR shopping since you can use it for both scenarios, it's officially also one of the handful of bags from Saint Laurent today that you'll find made almost entirely of thick canvas.
Measuring almost 40 cm in height by 34 cm across, all you get is small bits of leather where the handles are, a magnetic snap button closure and the words 24 Rue de L'Université printed under the Saint Laurent logo (a reference to the French brands's reinstated Left Bank couture house), which has a slight tinge of irony since the canvas tote is hardly couture to begin with. The thing is, with Hedi Slimane's departure, we'll never know the backstory on why these exact words were placed so prominently on a bag like this, but it doesn't matter anymore either.
IMAGE: SAINT LAURENT
Priced at GBP470 online (or around SGD840 after conversion), this unisex vertical tote also comes with a sister that takes on a more horizontal form (wider than it is tall), which means you'll just need to decide which shape works better for you.
Update: 26 July 2016
For those of us in Singapore, this Beach Shopping Tote will retail for SGD1190, and it's available at both Saint Laurent at ION Orchard and Marina Bay Sands.
Tags: Tote Saint Laurent SHOPPING Beach
comnum(0) tbcount(0) tbcount(395)
Categories:
Other Brands
Taking its inspiration from the original classic Saint Laurent Monogram Bag comes a newer tailored version of it in Dylan Monogram Saint Laurent Satchel Leather. Yes, we are definitely talking about this beauty right here, something that your eyes shouldn't dare to miss.
As if the gold-like YSL logo on the front won't consume your heart with a desire to buy it pronto, here we are giving you more reasons to love it even more. So this is a Saint Laurent flap front bag with accordion sides giving you enough space to carry your essentials. It also has a leather strap that can be worn over the shoulder or cross body, whichever style suits you best. The metal interlocking YSL signature is a definite winner for us! I also have magnetic snap closure, vintage-gold tone hardware, and suede lining for a more classic and elegant look.
The interior features a slot pocket with large compartment to store all your daily essentials. Crafted from calfskin, measuring 24 x 15.5 x 4.5 cm and priced at $1450 USD or €1390 euro via Saint Laurent boutiques.
Tags: bag Monogram Saint Laurent DYLAN
comnum(0) tbcount(0) tbcount(410)
Categories:
Other Brands
Do you know how a superstar bag looks like? Well well, set your eyes on this Saint Laurent's Small Love Heart Chain Bag and you'll instantly know the answer.
This Mini Love Crossbody Hear Bag in Black Patent Leather from Saint Laurent is the perfect cuteness and dainty to add to your overall ensemble especially if you get a date on a Saturday night or if you decide to go hit the dance floor with your friends on a TGIF kind of night.
This heart-shaped beauty resembles the Small Love Quilted Shoulder Bag also from the same brand but this time around, there are fun embellishments to it. The added stars on the metal interlocking YSL logo is the right amount of girly you would want in a bag. The gold colored metal shoulder strap on the other hand is also the perfect complement to its dark black leather color.
The small size is measured 4.7' x 4.5' x 1.8' inches and priced at $895 USD or €690 euro, the medium size is measured 6.4' x 6.4' x 1.8' inches, priced at $1250 USD or €990 euro via Saint Laurent boutiques.
Tags: bag Saint Laurent Chain Heart LOVE
comnum(0) tbcount(0) tbcount(385)
Categories:
Other Brands
This Pre-Fall 2016, Saint Laurent has released a new version of the Monogram Cabas Bag. The new design now comes with an expandable gusseted side panels that was not present in the original version and has the same dimensions. It still features the interlocking YSL signature buckle closure. This season's version no longer have the buckles on the tubular handles. The interior is unlined and includes a slot pocket. It has a double zip top and a thick removable shoulder strap. Price is a few dollars higher compared on the original style, the new price is $2,490.00 (USD) for the Small Cabas, while old design is priced at $2,450.00 (USD).
Check out the comparisons between the new and original designs.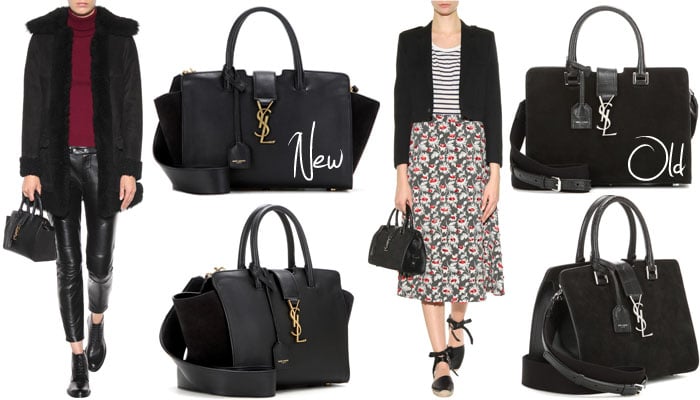 Style, Price & Size
| Style | Price | Size |
| --- | --- | --- |
| Saint Laurent Leather/Suede Small Monogram Cabas Bag | $2,490.00 (USD) | 17.2" x 8.6" x 5.8" |
| Saint Laurent Suede Small Monogram Cabas Bag | $2,490.00 (USD) | |
| Saint Laurent Leather/Crocodile Embossed Small Monogram Cabas Bag | $2,490.00 (USD) | |
| Saint Laurent Leather/Zebra Printed Cowhide Small Monogram Cabas Bag | $2,490.00 (USD) | |
| Saint Laurent Leather/Suede Baby Monogram Cabas Bag | $2,150.00 (USD) | 14.0" x 7.6" 4.7" |
Gallery
Tags: bag Monogram Saint Laurent Cabas
comnum(0) tbcount(0) tbcount(363)
Categories:
Other Brands
The authentic Sac de Jour comes in no less than 5 sizes: Large, Small, Baby, Nano and as of a year ago, the tiny Toy size. Still, the most common sizes you will find for the Saint Laurent Sac Du Jour replica are the Small (which can actually be considered the Medium size), the Baby and the Nano. I've noticed that it's pretty hard to find the Large size and almost impossible to find the Toy size.
Saint Laurent Sac Du Jour Replica Size Comparison
There are already a few Saint Laurent Sac Du Jour replica reviews on Spotbags for the classic small and baby sizes and also a YSL Sac De Jour Nano review, which is why today I'll focus more on the Toy size. For you reference, the Toy Sac de Jour measures 5.5″ x 4.3″ x 2.8″ inches, the Nano is 8.6″ W x 7″ H x 4.3″ D, the Baby is 10.1″ W x 8.2″ H x 5.1″ D, the Small is 12.5″ W x 9.8″ H x 6.4″ D and the Large is 14.2″ W x 10.7″ H x 7.4″ D. So as you can see, the size difference between the Toy size and the Nano size (which used to be their smallest) is quite noticeable.
Just like its name says, this new size looks like it's been made for dolls. The Large Sac de Jour can actually fit a laptop but it's the only size that doesn't come with a shoulder strap, the Small has the perfect size for an everyday bag and comes with a shoulder strap (always a plus), while the Sac de Jour Baby is the perfect size for those who like crossbody bags that don't sacrifice space. The Nano (also called the Mini size on many sites) is the perfect crossbody for nights out when you need only your essentials, so that leaves the Toy size.
Saint Laurent Toy Sac De Jour – The Smallest Size
What can one do with a Toy Saint Laurent Sac Du Jour replica? Well, not much. An iPhone 6 doesn't fit in this bag, so it's safe to say one doesn't buy this bag for its functionality. Even though this bag is so small and unpractical, it still costs over $1,000 which is plain ridiculous if you ask me. While I can understand the idea of investing in an authentic classic bag like the regular Sac De Jour, I can't justify the price of the Toy Sac De Jour.
As always, I turned to eBay to see what's the online offer right now. I actually found three Saint Laurent Toy Sac De Jour bags that are priced somewhere around $850. I thought that maybe some of you will be interested in this new Saint Laurent Sac Du Jour replica because let's face it: it's also ridiculously adorable! This is why I decided to give you girls more details about the newest Saint Laurent Sac Du Jour replica size.
The Toy size was released about a year ago but even at the moment it is still difficult to find this fake YSL bag. I don't know if this is because the bag was not on demand or if replica sellers didn't justify the production costs for a trendy bag like this, but the idea is that I wouldn't get too attached to this size quite yet.
If you really want a small Saint Laurent Sac Du Jour replica with crossbody function, I think the Nano is the way to go. A YSL Sac De Jour Nano is the more practical choice and fits all the essentials: keys, a fold-over wallet, a lipstick, a smartphone and even a pair of sunglasses but without the case. So it's safe to say that a YSL Toy Sac De Jour fits even less items.
Here are more pictures with the Toy size for you to see how it looks when worn and also to get a better idea of its real size:
One thing is for sure: Saint Laurent Sac De Jour replica bags are still some of the most coveted designer replica bagsand this bag has proven to be a true classic, which is why there are so many variations of sizes, colors and leather types. People just can't get enough of it!
But what do you girls think about the Saint Laurent Toy Sac Du Jour size, would you wear it?
Categories

New Posts

Hot Posts